SONICHAR – Historical partnership for chain extractors
SONICHAR – Historical partnership for chain extractors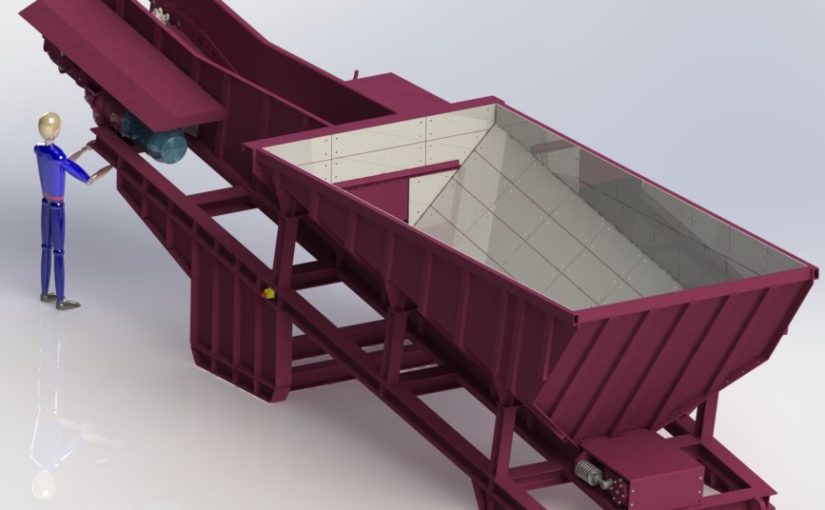 SONICHAR and LA STEPHANOISE: A relationship of trust that has lasted for years for the maintenance of mobile chain extractors!
LA STEPHANOISE is proud to present the design phase of our latest Mobile Chain Extractor, resulting from our continuous historical partnership with the company SONICHAR based in Nigeria.
SONICHAR contacted LA STEPHANOISE for the supply of a brand new Chain Extractor to replace the existing one, in operation since 1978, on its open-pit coal field. Further to new constraints which have emerged over the years and based on the customer's feedback, modifications and improvements have been made to the original design (higher tilt angle, greater length and height, replacement of the wheels with sliding blocks).
3D drawings were performed using SOLIDWORKS software in our Saint-Etienne (France) drawing office. On this occasion, it was with nostalgia that we were able, after 42 years of operation, to compare the new design with the original archived paper drawing.
Length: 9.359m
Width between flanges: 600mm
Chain type: 2x18x500
Tilt angle: 11°
Capacity: 60t/h – 120t/h
Power: Two-speed motor 10-15kW
Gearbox: LA STEPHANOISE, R48 type reduction 1/58,7 + reduction box B38 – ¼ type
Hopper: 10m³
Coming up soon: The manufacturing phase performed in partnership with our sister company ALLIA POLAND